What to bring
health insurance card

medical care certificate for the elderly
If you have a medical care eligibility certificate, eligibility certificate for ceiling-amount application and reduction of the standard amount of patient liability, medication notebook, or medical images and data, please make sure to bring them along as well.
To encourage a clear division of roles between hospitals and clinics,
patients without a letter of introduction from a separate medical institution will be charged a fixed fee for their first medical examination at the municipal hospital.
First Visit Fee for Patient-Selected Extra Medical Services 2,200 yen (tax included)
Outpatient Treatment Reception Hours
Reception Hours

AM 8:30 - AM 11:00 (the automated reception machine for second-time patients/follow-up examinations opens at 8 a.m.)

Reception for examinations outside these hours is reserved for emergencies and patients with appointments.
Holidays

Weekends, public holidays and New Year's holidays (December 29th to January 3rd)
Consultation Process
1. First, submit your numbered waiting ticket at the reception desk of the department you will be treated at and wait in the outpatient waiting room.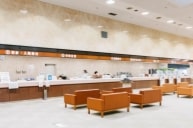 2. When your waiting ticket number appears on the large screen, proceed to the central waiting room.
3. Enter the examination room when your name is called.
4. After your examination, you will receive your invoice from the payment counter at the department that saw you.
5. Finally, pay your fee at the automated payment machine at central counter No. 6.
*If you are unsure how to use the machines, please speak with one of our on-duty staff.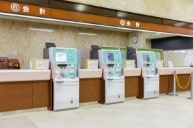 6. Submit your receipt's prescription exchange ticket at the prescription counter to receive your official prescription.
If the medication is available at the hospital, you may bring your prescription exchange ticket to the pharmacy counter to receive your medicine.
FAQ
How long is the wait for outpatient examinations?

In general, the hospital prioritizes patients with an appointment or introduction or with a medical emergency. As a result, patients who do not fall into one of these categories may have to wait 2 hours or more to be seen. To avoid this, we recommend first visiting a general practitioner in your local area.
We work closely with local medical practitioners and clinics. If you require treatment at a municipal hospital, you can receive a letter of introduction by visiting your local doctor.
Can I receive a physical examination here?

Nishio City has asked the medical association to administer physical examinations through local health centers. As such, the municipal hospital does not provide its own physical examination services. Health centers offer a wide range of tests, examinations and detailed screenings. Please check with your nearest health center for details.